EMPOWERING. WOMEN.
BURKINA FASO.
There is no tool for development more effective than the empowerment of women.
Kofi Annan
Changing Lives a Seed at a Time
With each visit to Burkina Faso I was struck by the beauty of culture and landscape, as well as the poverty. Something that stood out to me was the lack of agriculture during the dry season. This lack of food production has to be detrimental to a country that already faces extreme poverty.
That lead me to a simple but efficient idea: vegetable gardens. Family vegetable gardens are common everywhere in rural Europe so I wondered why they don't exist in an area plagued by malnutrition.
The answer is simple: It wasn't done because it had never been done. People are suspicious of anything new and don't think outside of the box. I made it my mission to inspire people to be part of a new tradition. One woman one garden inspires positive change in Burkina Faso and breaks with "doing what was always done".
With a simple idea, we reduce malnutrition, increase economic independence and generate resilience. We started with 80 women. After only one year more than 1,000 women produced vegetables that they cooked for their family and sold at local markets.
This year 3000 women will take part in one woman one garden. My vision is to continue inspiring and empowering women.
Anna Pertl
Female Human Development Index

37.5%

Population in Severe Multidimensional Poverty

63.8%

Prevalence of Undernourishment

21%

Child Deaths Caused by Undernutrition

41%

Female Literacy Rate

29.3%

Percentage of Females with Secondary Education

6%
Impact by Region
Click on the green provinces to find out more.
Boulkiemé
Kadiogo
Kourwéogo-Oubritenga
Namentenga
Ganzourgou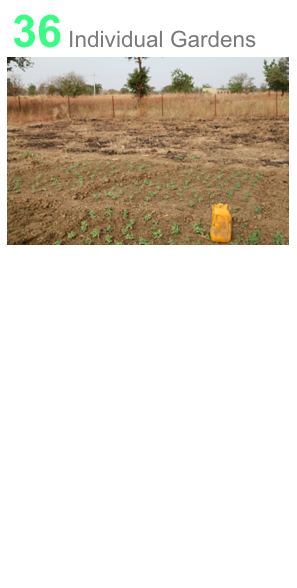 Boulgou
Why One Woman One Garden?
100% of donations reach the women